False Eyelash Glue - eyelash glue
Regular price
119 SEK
Sale price
46 SEK
Unit price
per
On sale
Sold out
APPLY LASH GLUE JUST LIKE EYELINER
Eyelash glue for false eyelashes:
- The glue can be used with all false eyelashes
- Easy to use for beginners
- Long-term durability
- Waterproof
- Easy touch-ups
- Without latex
The light LYXO lash glue makes it easy for beginners to apply strip lashes. Create an eyeliner line on the lash line with the lash glue in transparent or black, and apply your favorite strip lashes.
LYXO eyelash glue works with all types of strip eyelashes.
Applicator type: brush
Information about the product

APPLY EYELASH GLUE AS EYELINER
Instructions:
STEP 1
Apply the lash glue just like eyeliner and wait 60 seconds until it becomes sticky. The more product you use, the longer you have to wait.
STEP 2
Place the lashes as close to that lash line as possible, either with your fingers or with tweezers.
STEP 3
Press the artificial lashes and your natural lashes together.

PRO TIPS:
Cut the lashes into 2 or more parts for easier application.
For an extra strong durability; also add lash glue to the lash band.

Ingredient (black glue): iron oxide black. water. Stvrene/acrylates copolymer, propylene glycol, xanthan gum, GM-BP.
Ingredient (clear glue): high polymer polyacrylate, water, styrene/acrylates copolymer, propylene glycol, xanthan gum, GM-BP.
The product does not contain latex.
Product details

APPLY EYELASH GLUE LIKE EYELINER
Easy to apply eyelash glue in clear or black.
Step 1
Apply the product to the lash line.
Step 2
Place the false eyelash close to the lash line.
Step 3
Press the eyelash and your natural lashes together.

This product is latex-free.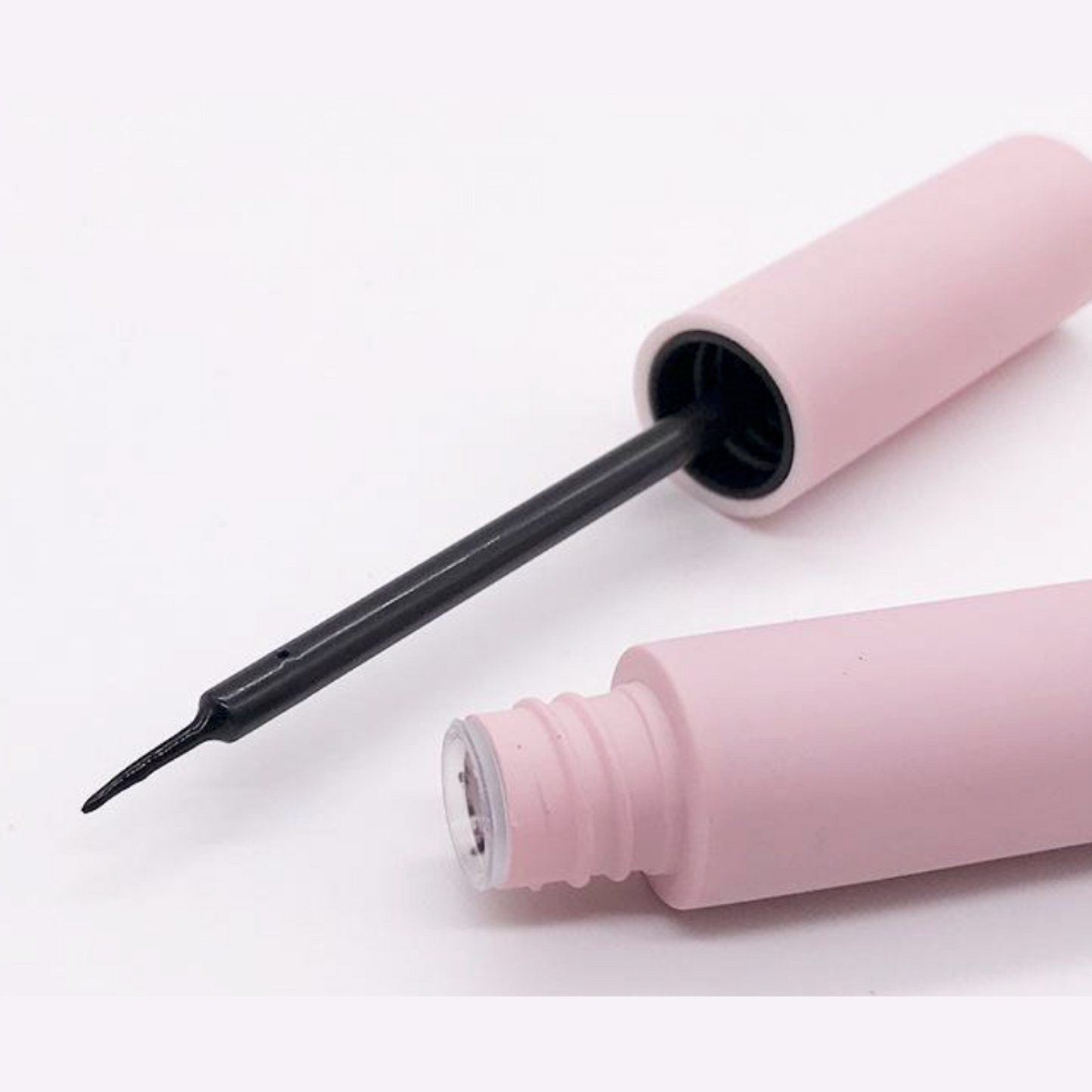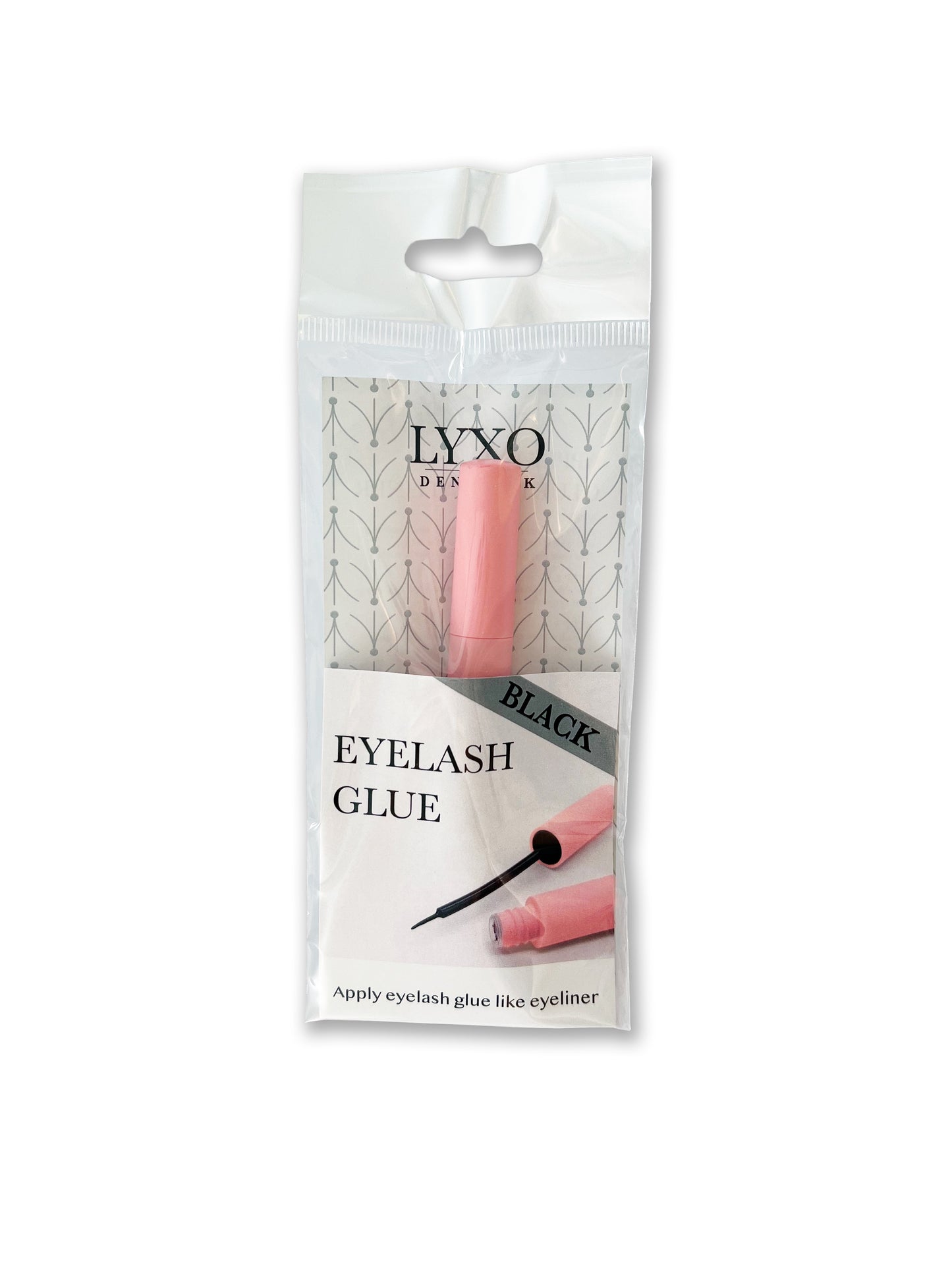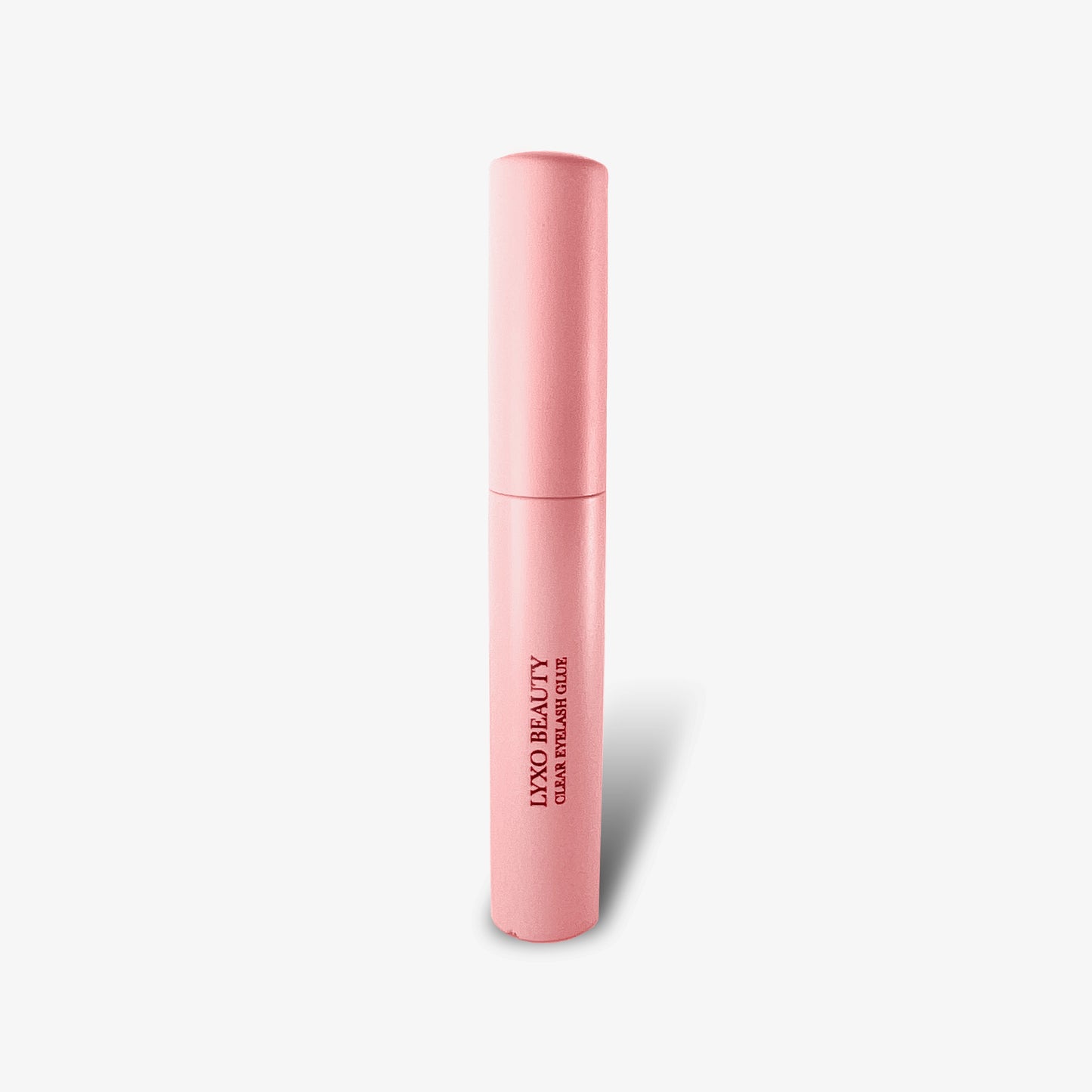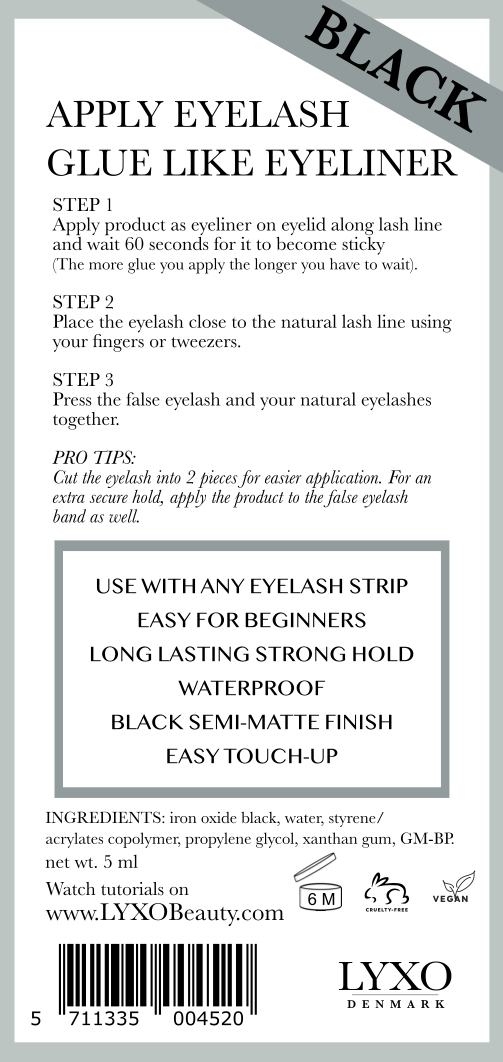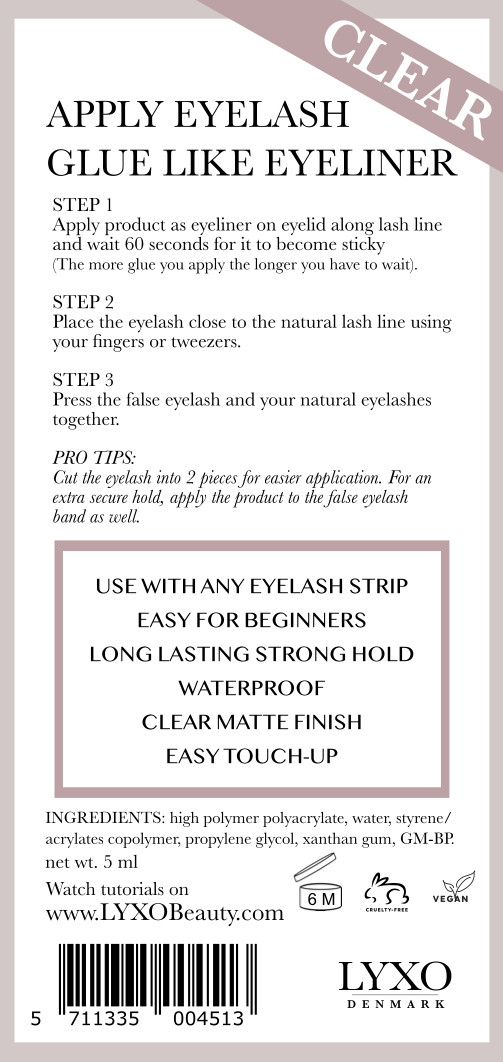 Freight

We ship to all EU countries and offer free shipping on purchases over 599 DKK or 999 SEK. You choose whether your order should be sent with DAO or GLS. You always receive a tracking number, so you can track your package.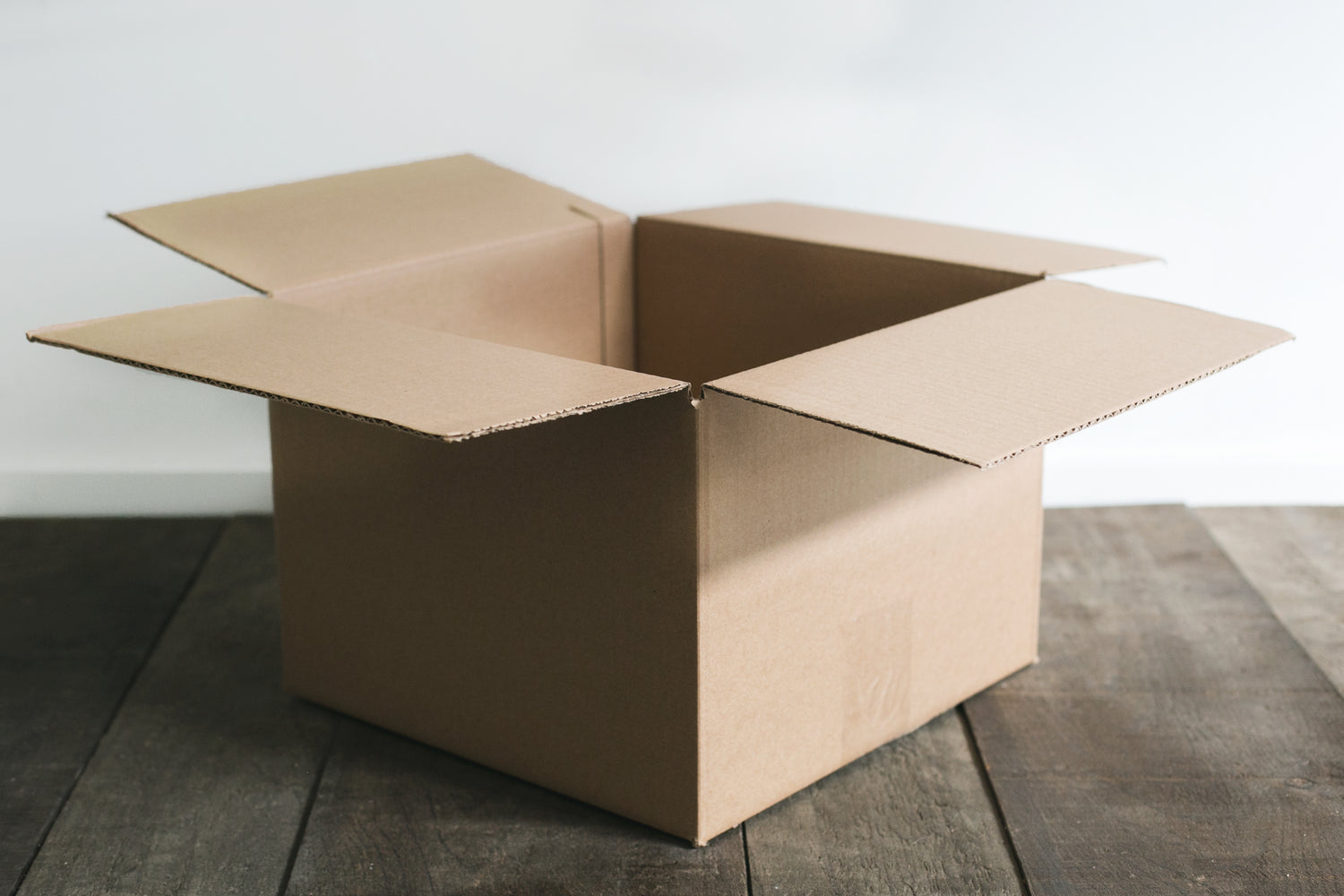 Was what you wanted sold out?
Read more about when we will have more of your favorites back in stock, or which new products we will have soon.
RESTOCK & COMING SOON