Claire glue
Regular price
Sale price
149,00 DKK
Unit price
per
On sale
Sold out
Part of the new glue collection
Claire glue is perfect for customers with sensitive eyes, or those who are allergic to the color black (carbon black). The glue is transparent, so it can also be used for colored eyelash extensions.

It has a drying time of 1-2 seconds. The special liquid consistency makes it easy to apply extensions without lumps or visible residues of glue.

Each glue comes with a glue needle, so each glue is fresh and opened for the first time when you insert the needle into the opening.

- transparent hypoallergenic glue
- 1-2 sec. drying time
- transparent when dry
- 2 months shelf life after opening
Also available in a 0.5-1 second glue: CRYSTAL GLUE
Information about the product

Instructions:

Store the glue in a dark and dry place, at room temperature.
Unopened, the glue can last for 6 months, opened it can last for 2 months.
Shake the glue for 20-30 seconds each time before using it.
The ideal temperature for the glue is 18-25 degrees with a humidity of 50-60%.
Hold the bottle vertically and squeeze out 1-2 drops of glue.
Change your glue every quarter of an hour if you use jade stone foil stickers, and every half hour if you use a glue ring.
After using the glue, hold the bottle at a 45-degree angle and remove the remaining glue from the glue cap before attaching the cap.
If the glue cap is blocked, it can be reopened with the glue needle.

Ingredients: 2-cyanoacrylate glycol, polymethyl methacrylate.

Size: 5 ml
Product details

LYXO Claire Glue is perfect for clients with allergies, since it has no carbon black ingredient.

Drying time is 1-2 seconds, which lets you work fast without making your lash extensions clump together. The special very watery consistency lets you apply lash extensions without clumps or any extra visible glue.

Each glue bottle comes with a glue needle to ensure your glue is fresh and only opened once you put the needle through.

We recommend only using LYXO products with your LYXO glue

Remember to shake your glue every time before using.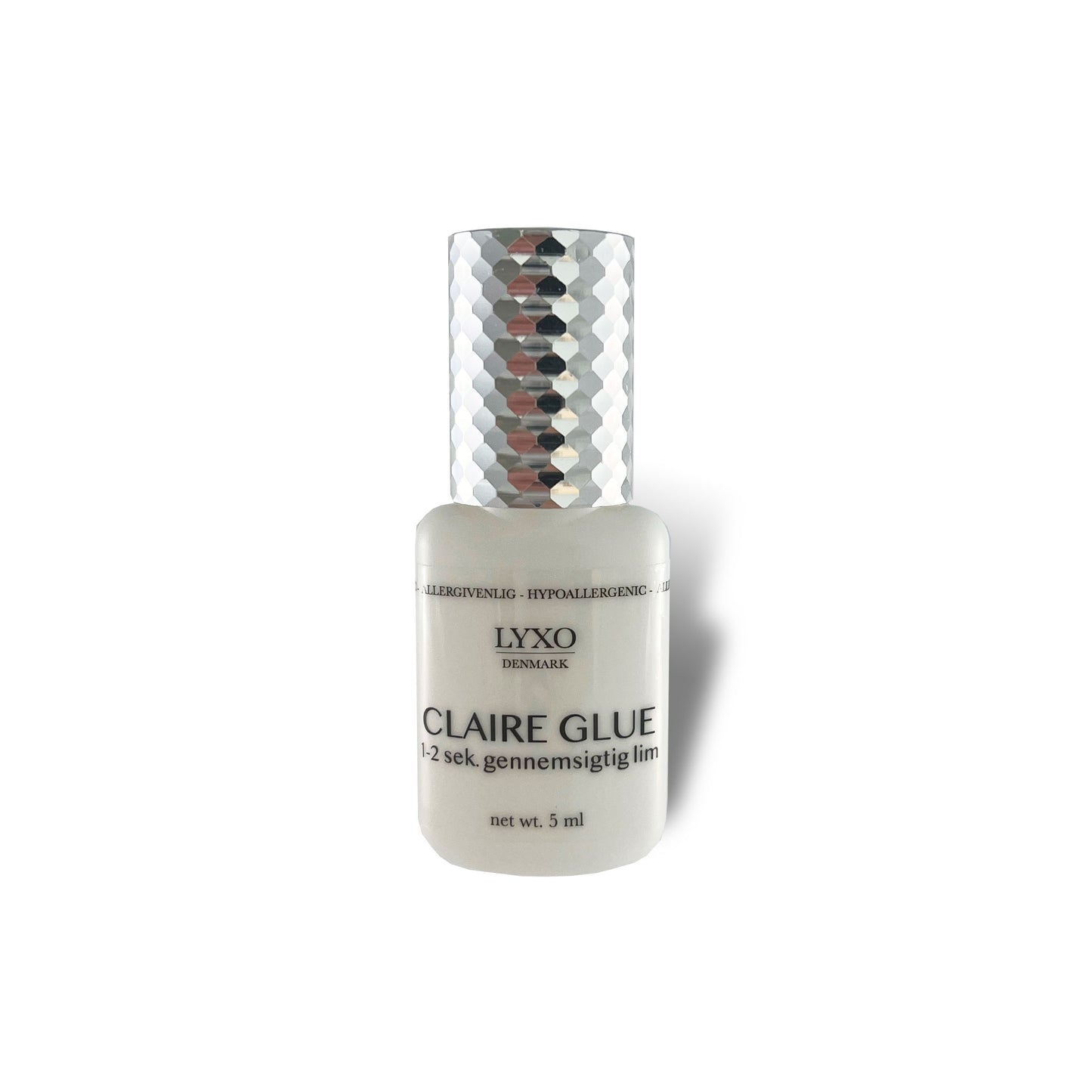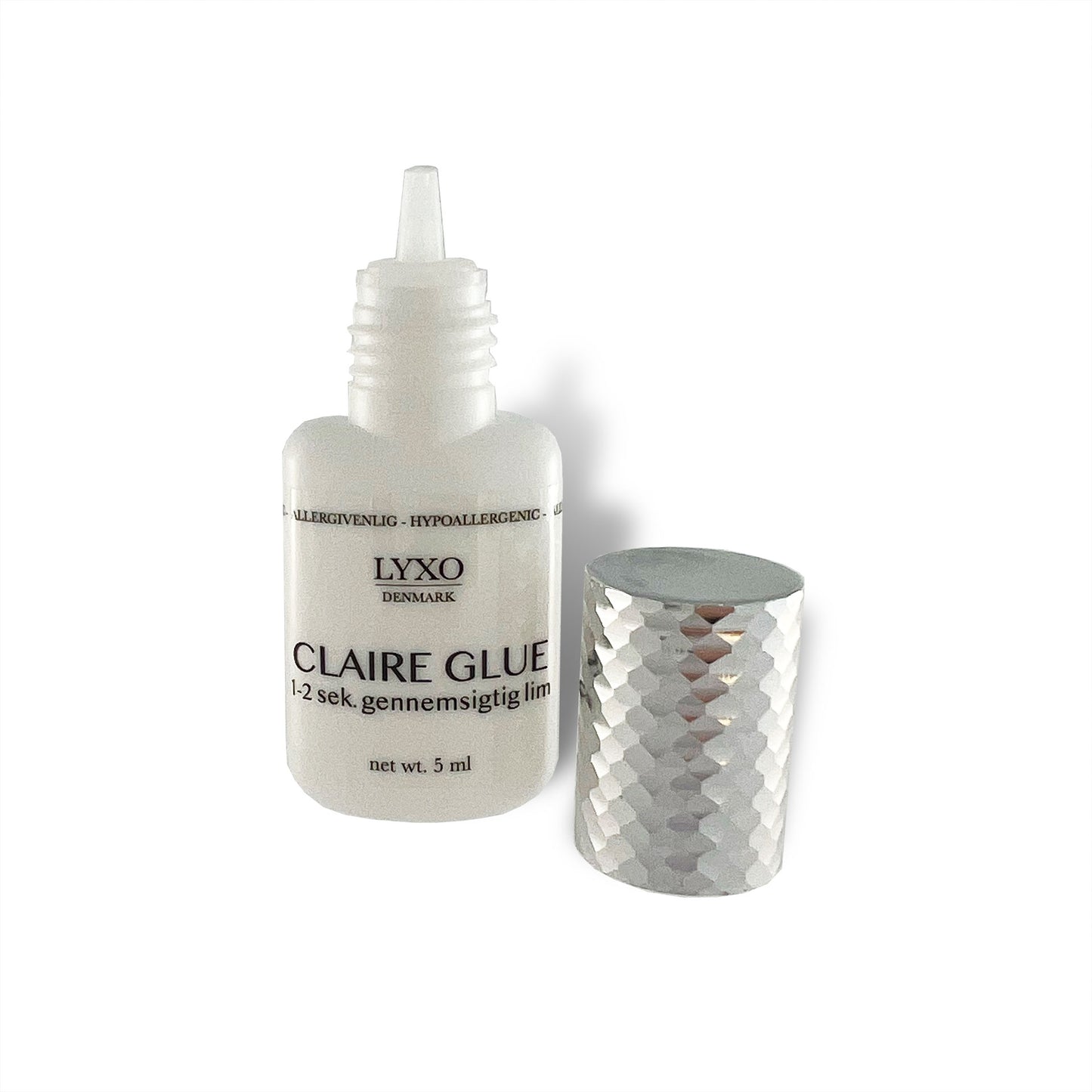 Freight

We ship to all EU countries and offer free shipping on purchases over 599 DKK or 999 SEK. You choose whether your order should be sent with DAO or GLS. You always receive a tracking number, so you can track your package.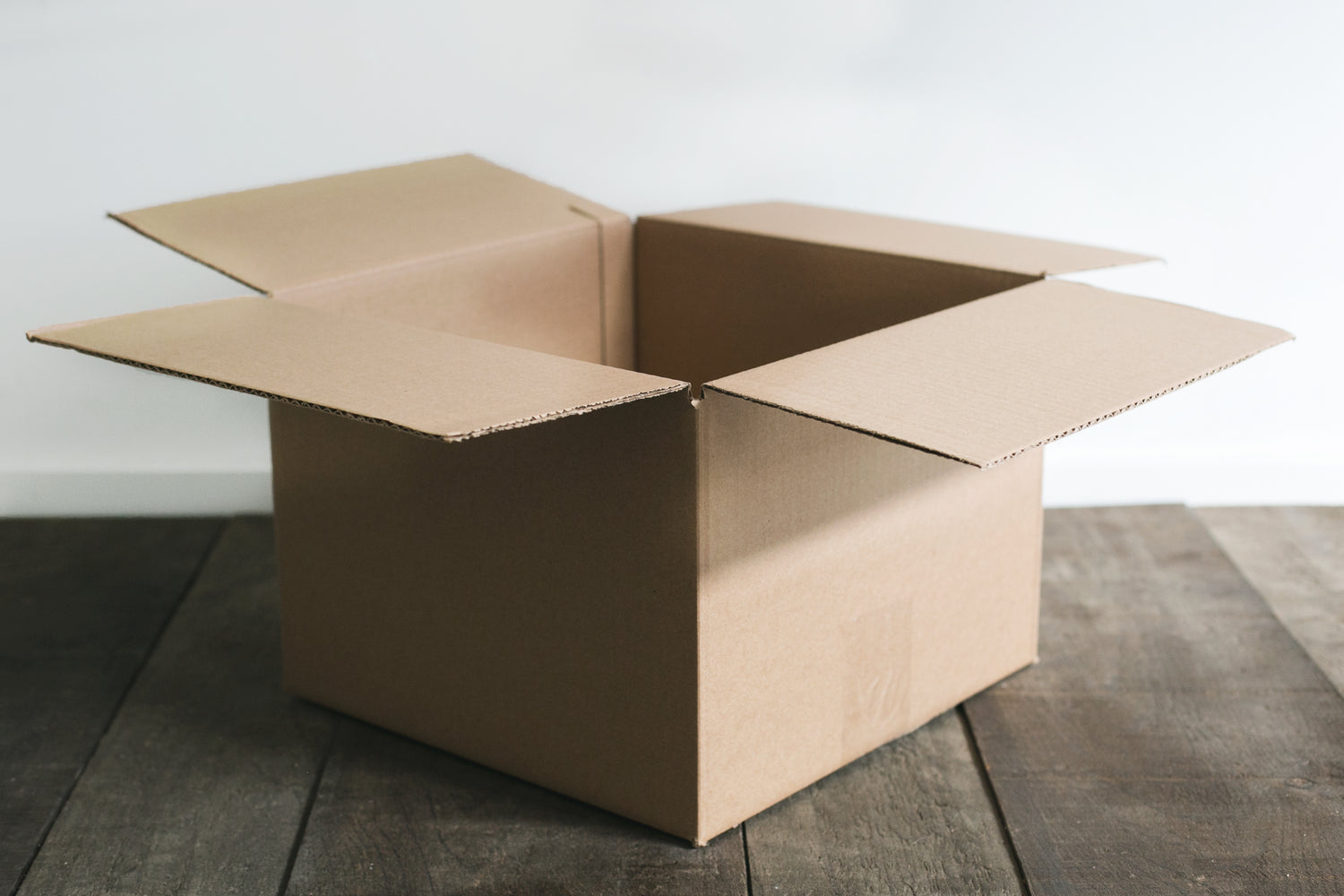 Was what you wanted sold out?
Read more about when we will have more of your favorites back in stock, or which new products we will have soon.
RESTOCK & COMING SOON