DIY Eyelash Extensions START KIT
Regular price
286,00 DKK
Sale price
215,00 DKK
Unit price
per
On sale
Sold out
Everything you need in a KIT to easily and quickly create your own eyelash extensions at home.

You save -25% by buying the products together as a KIT.
Contents:
1 tray with 48 clusters/lashes (4 different lengths)
1 piece. #1 Bonder & #2 Sealant DUO (4ml in each)
(colour: black or white which dries transparent)
1 piece. #3 Remover (4.5 ml)
1 pair of tweezers
- Reusable clusters (eyelash extensions bases).
- Bonder, sealant and remover for application and removal.
- Vegan and cruelty-free PBT fibers lashes (we do not test on animals).
- Soft and flexible cotton lash band.
- Waterproof and lasts up to 10 days with correct application and after care.
- Apply 3-5 clusters per eye, i.e. there are for many sets in one tray.
- Serum and lash shampoo suitable for eyelash extension can be used at the same time.
Putting on

1) Apply #1 Bonder under your natural lashes, close to the lash line.
(You can also apply #1 bonder to the lash-strip of your clusters for extended durability).
2) Press your natural lashes and eyelash extensions clusters together using the tweezers.
3) Brush #2 Sealant through the lashes, focusing on the lash line.
After care

Avoid water for 6 hours, after that they are waterproof.
Avoid oil and cream products close to the lashes.
Do not pull the lashes.
Avoid rubbing the eyes.
Taking off
1) Apply #3 remover to top and bottom of eyelash extension clusters.
2) Wait 10-20 seconds.
3) Slowly and carefully pull the clusters from your natural lashes.
4) Reapply #3 remover to remove any remaining product from the natural lashes.
See video of takedown above.
Recycling
1) Apply #3 remover to eyelash extensions clusters.
2) Wash them in warm soapy water.
3) Dry them and brush with a mascara brush.
4) Clusters are now ready to be reapplied.
Tips to make your eyelash extensions last longer:
- Avoid creams, oil-based products, mascara and makeup remover on the lashes.
- Sleep on your back.
- Don't scratch your eyes.
Information about the product

#1 Bonder (black): Acrylates copolymer, Aqua, CI77266 (black color), Propylene Glycol.

#1 Bonder (white-to-clear): Acrylates copolymer, Aqua, Propylene Glycol.

#2 Sealant (semi-transparent): Aqua, Acrylates/Ethylhexyl Acrylate Copolymer, Propylene Glycol, Phenoxyethanol/Ethylhexyl Glycerin, Caprylyl Glycol/Ethyl Hexyl Glycerin.

#3 Remover: isopropyl palmitate, polyisobutene, isododecane, microcrystalline wax, phenoxyethanol, pelargonium roseum (rose geranium oil).

Shelf life: 3 months after opening.

Tweezers: stainless steel.
Product details

DIY eyelash extensions for at-home application.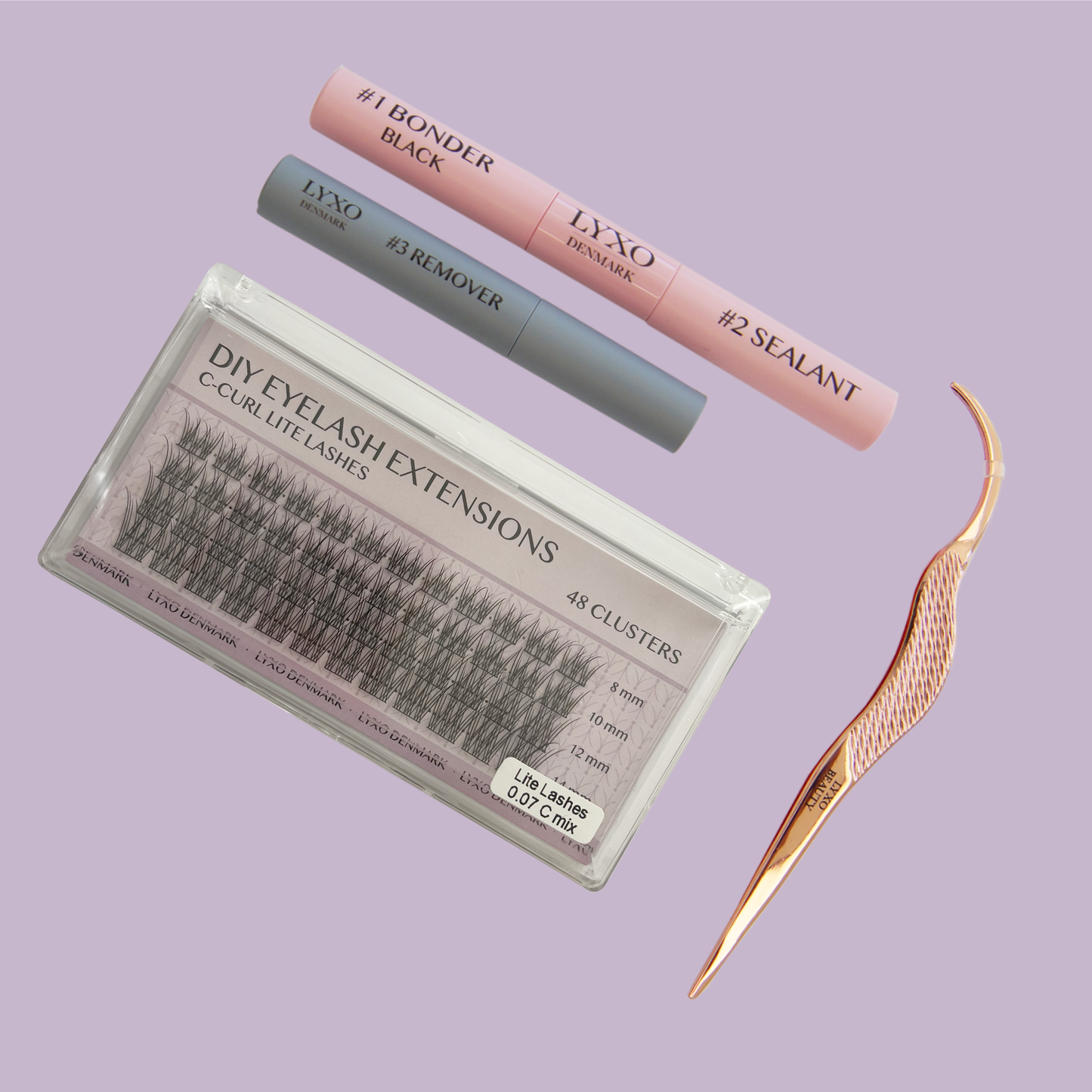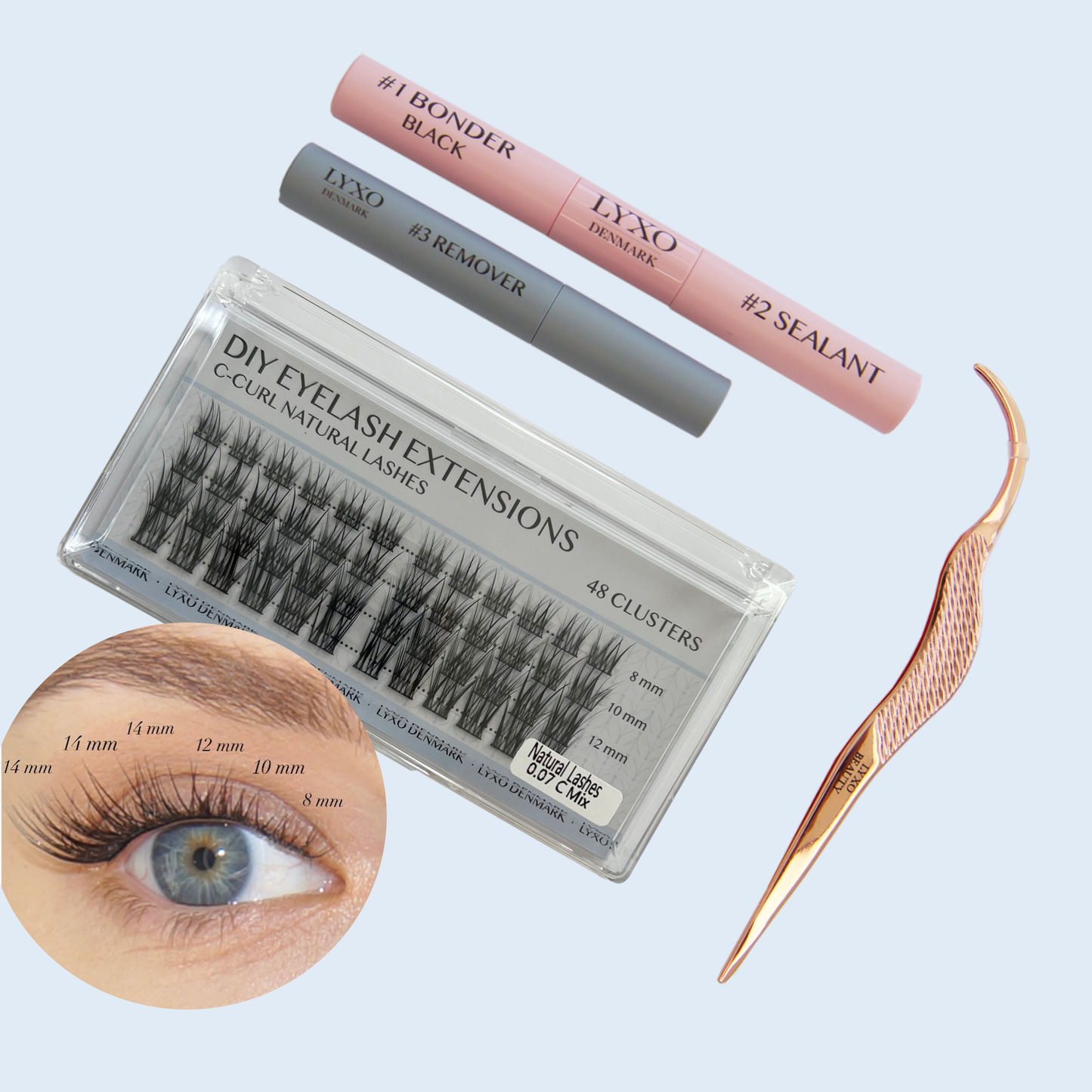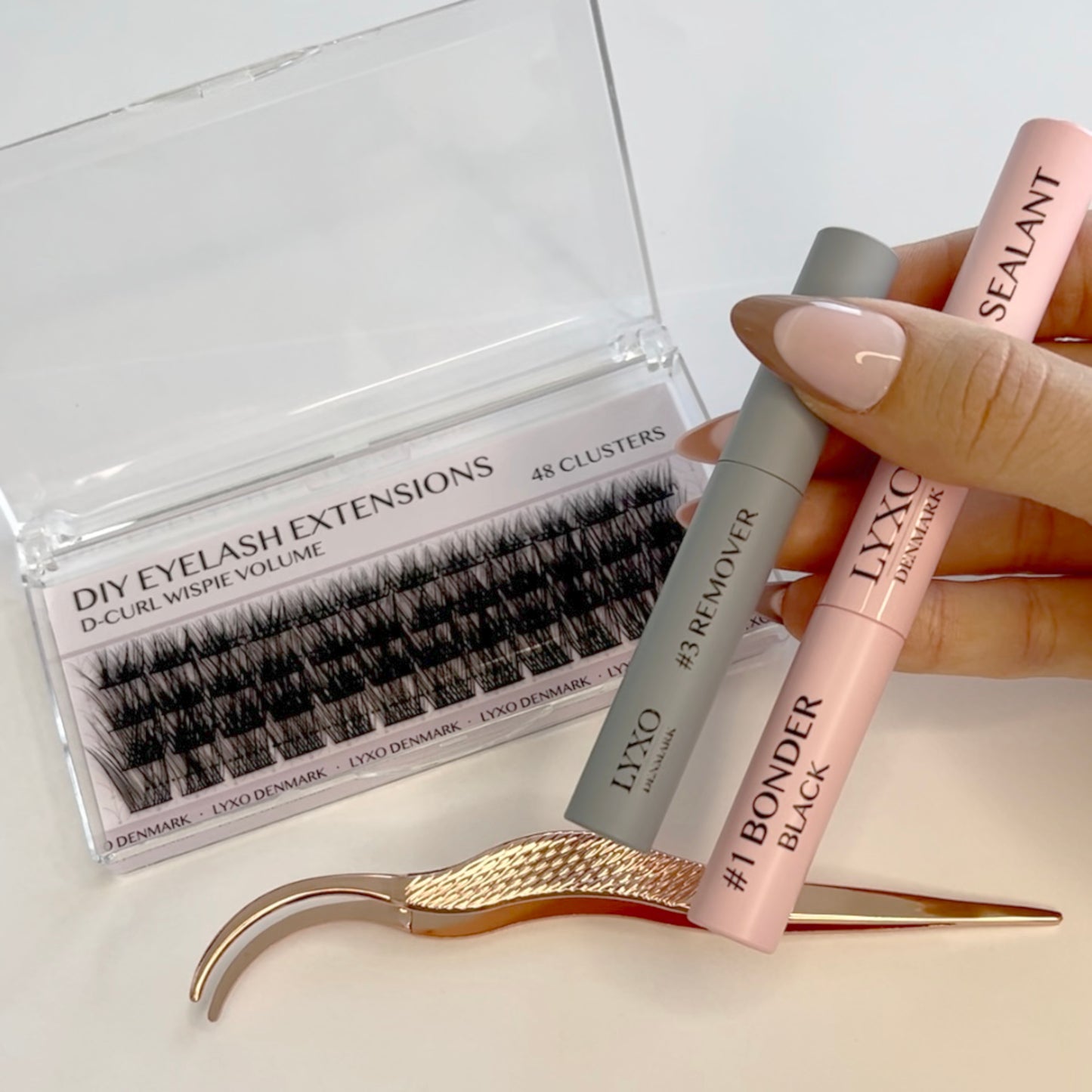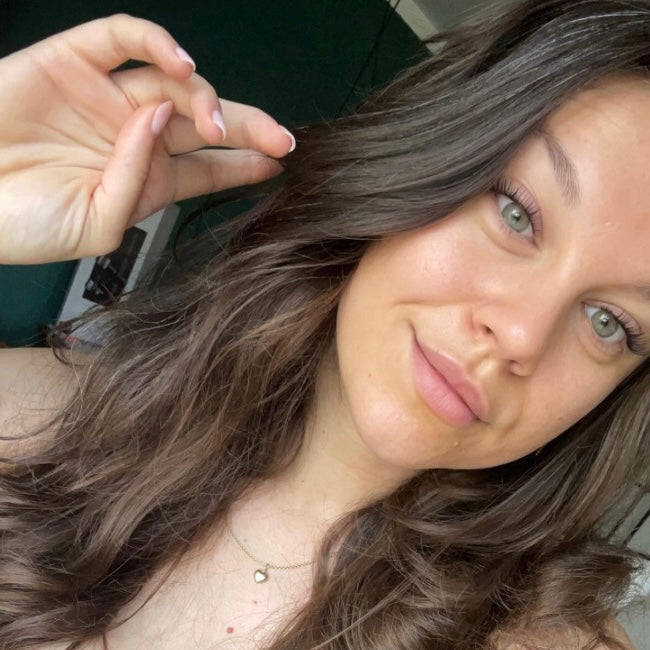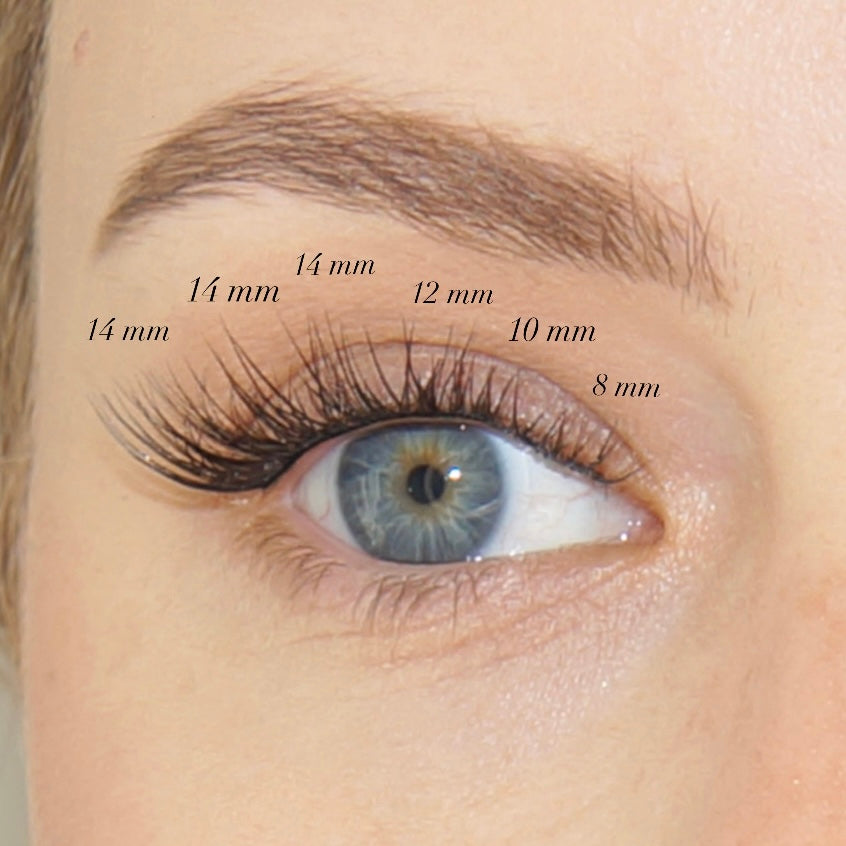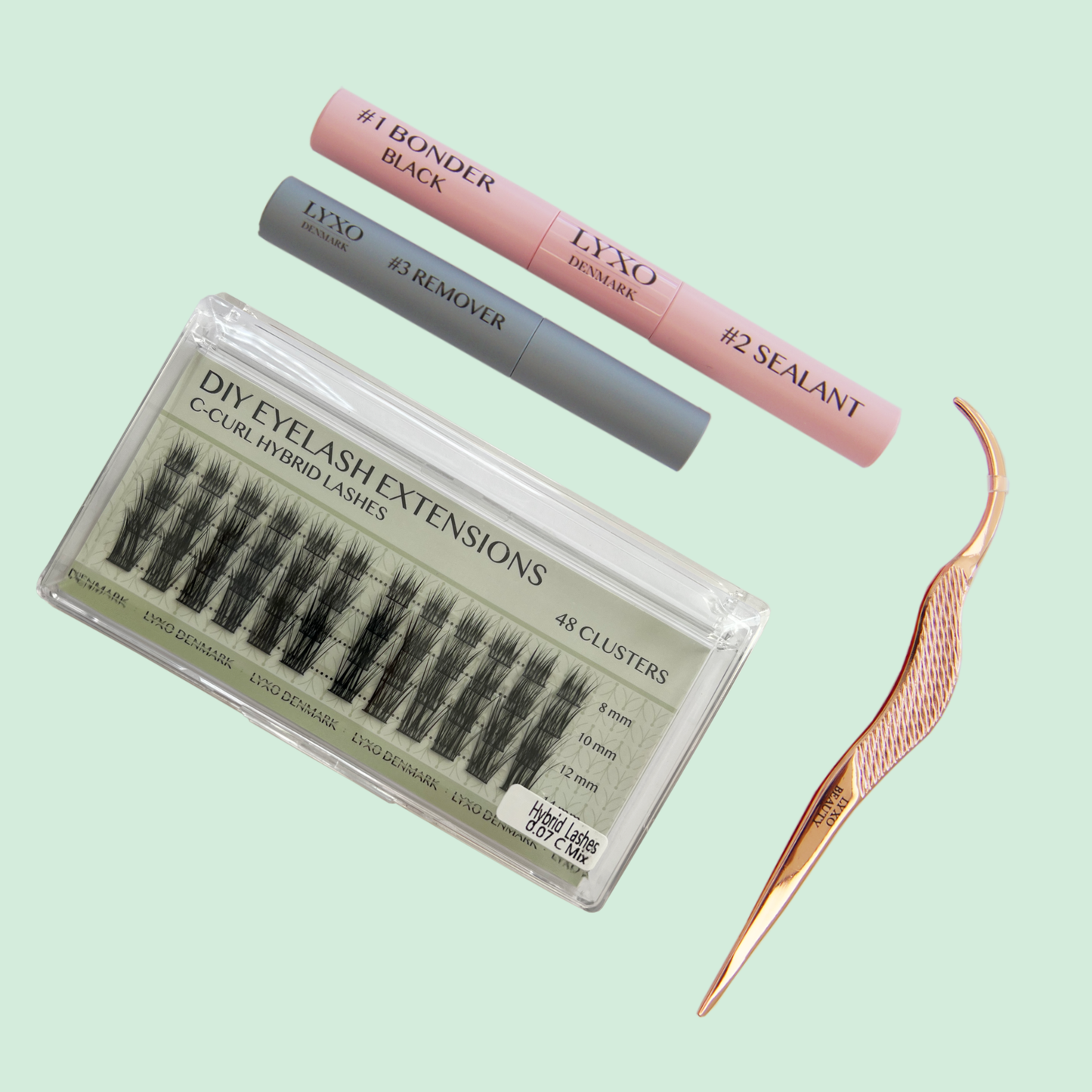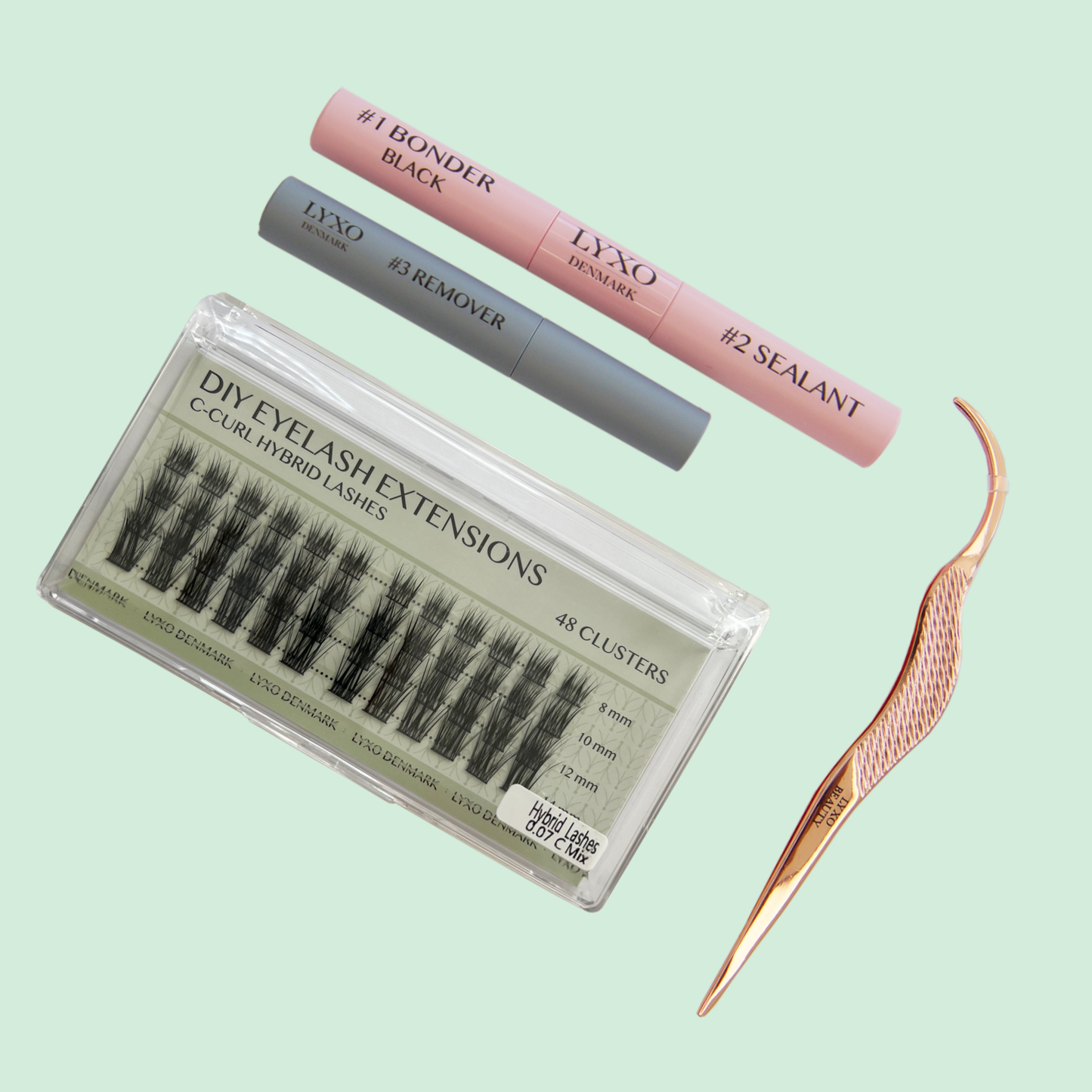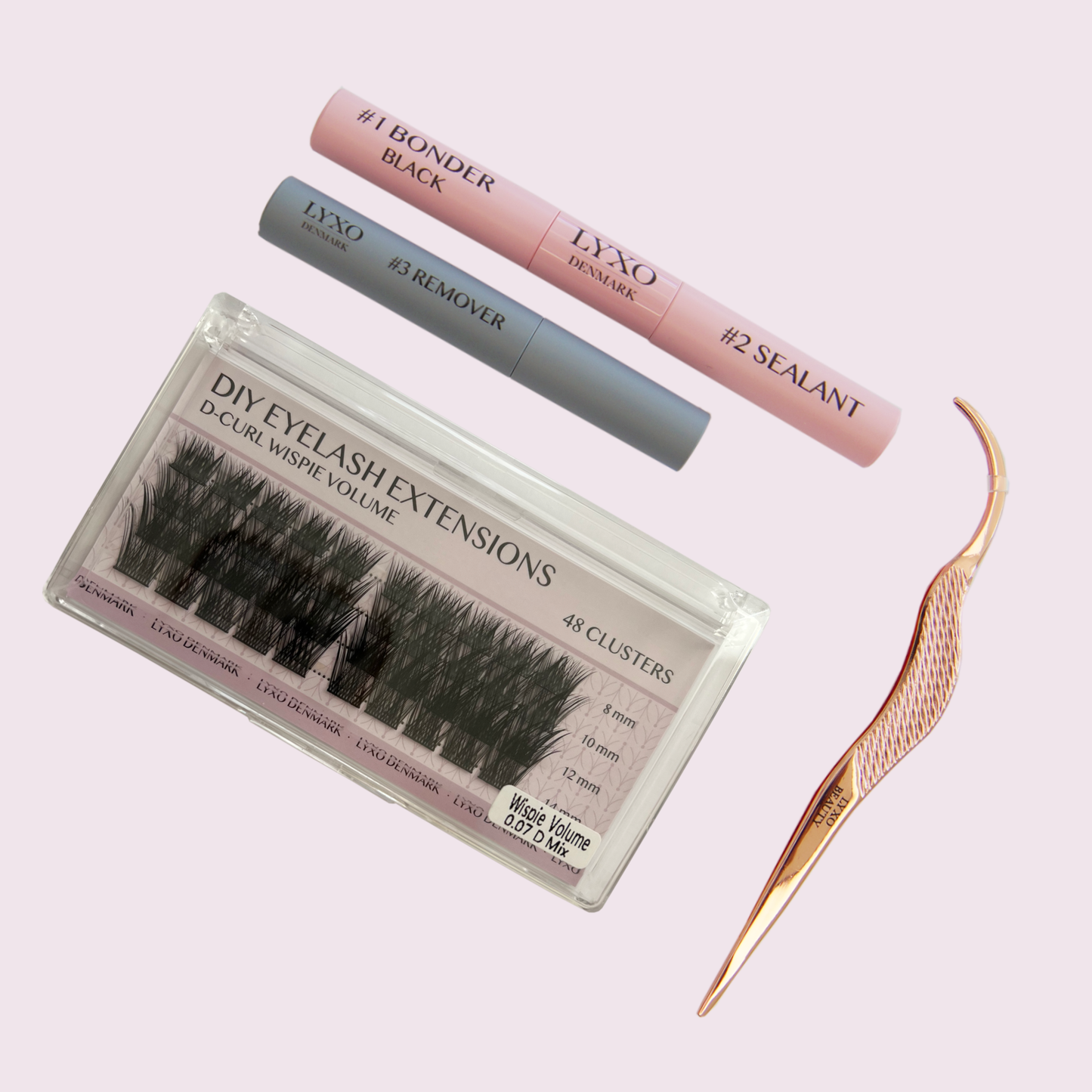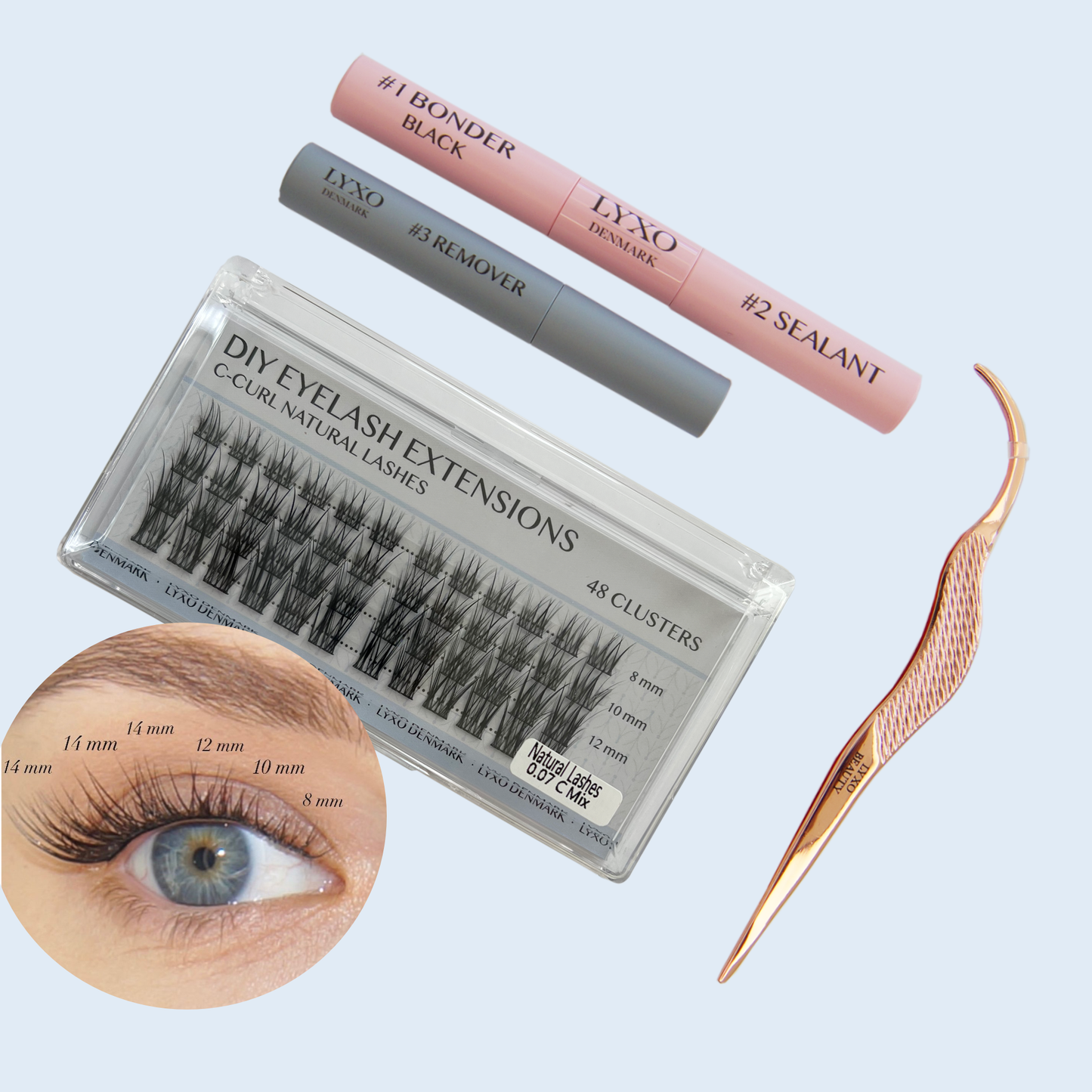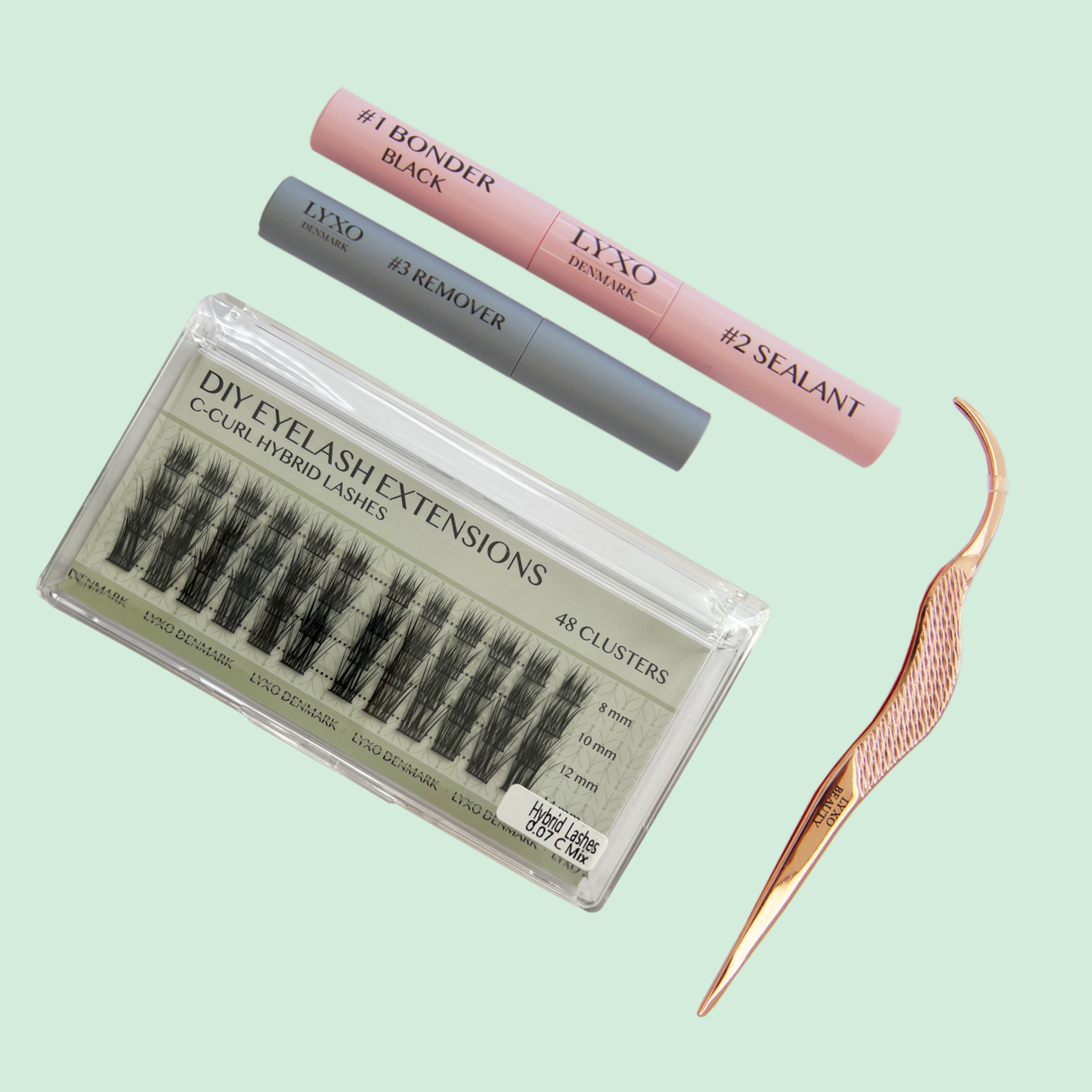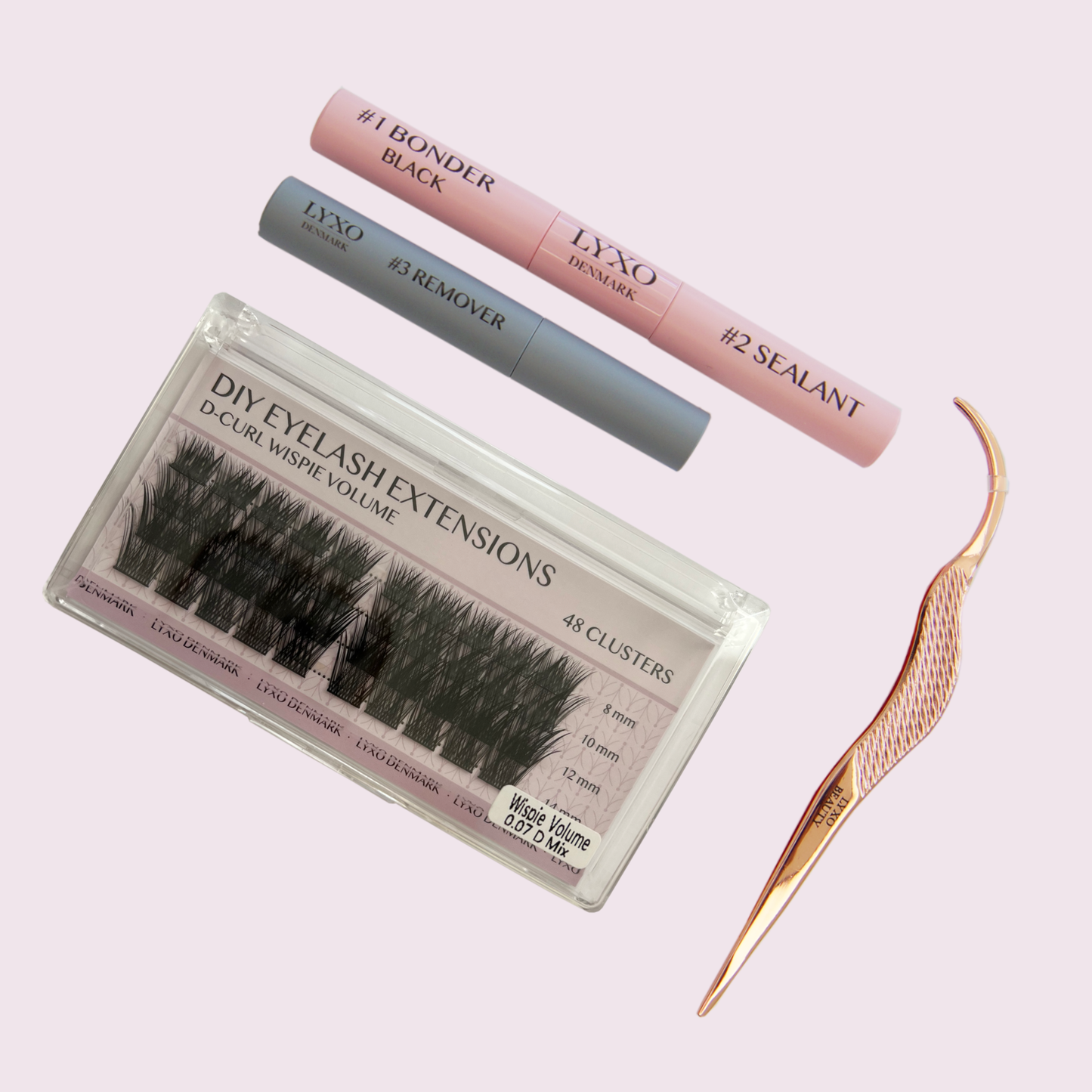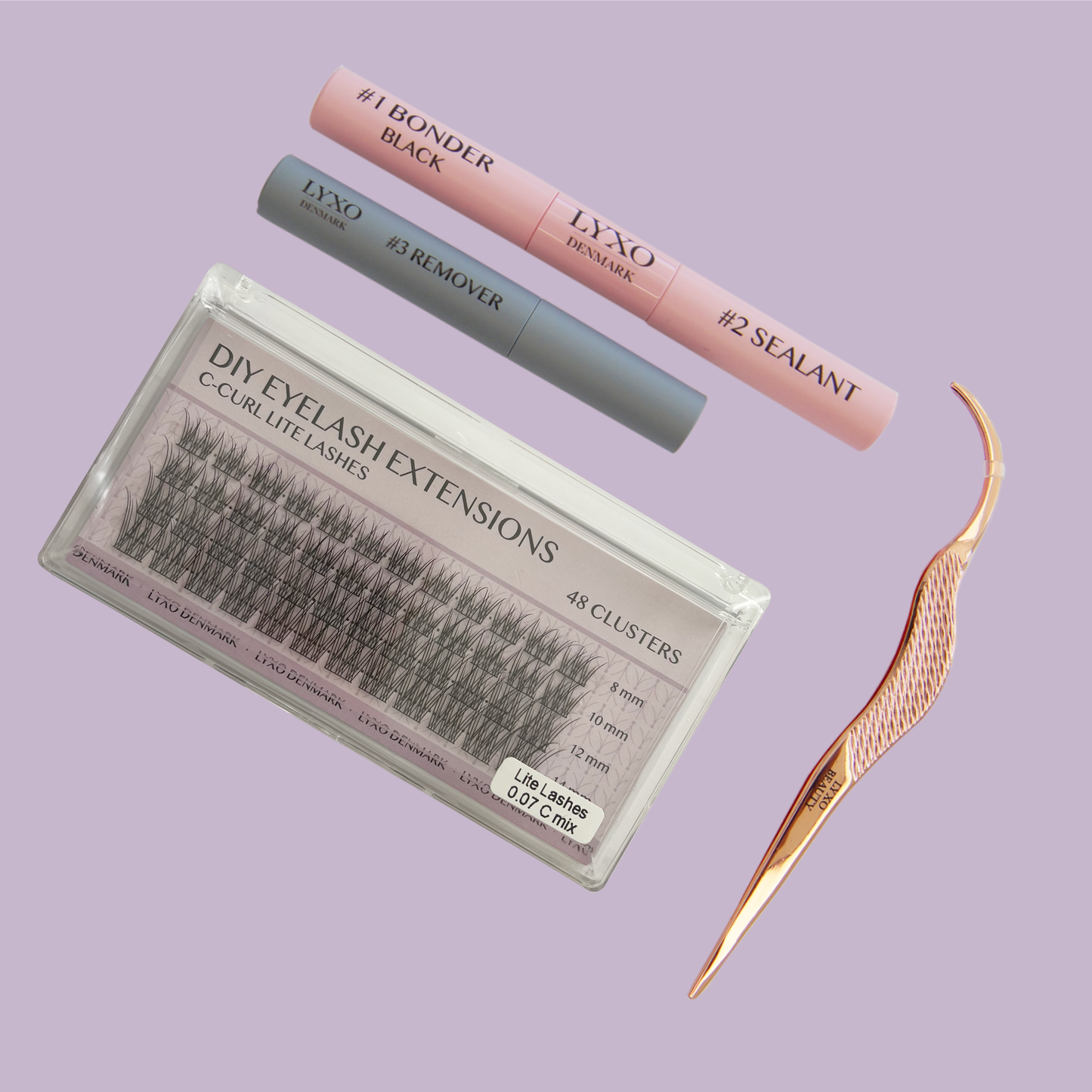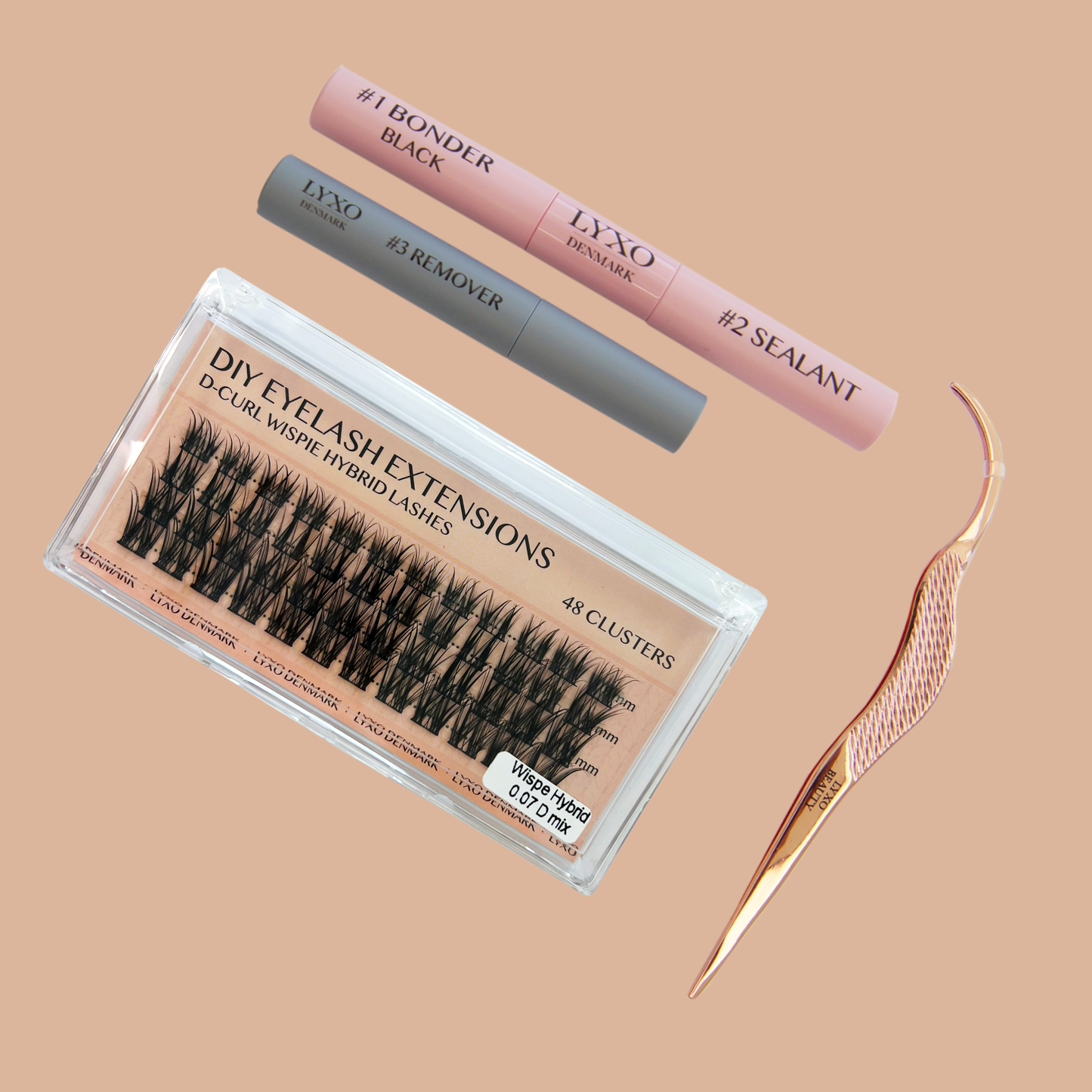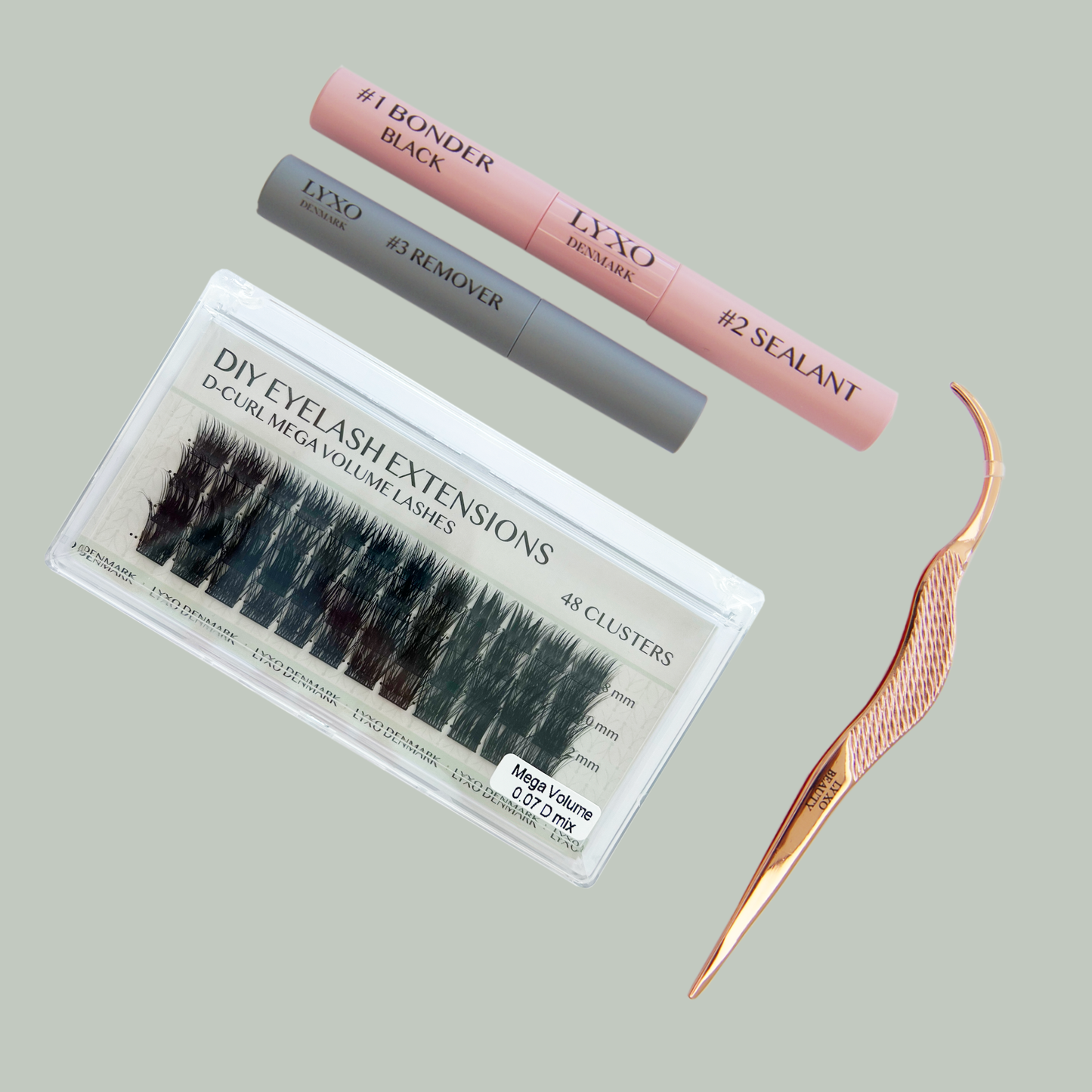 Freight

We ship to all EU countries and offer free shipping on purchases over 599 DKK or 999 SEK. You choose whether your order should be sent with DAO or GLS. You always receive a tracking number, so you can track your package.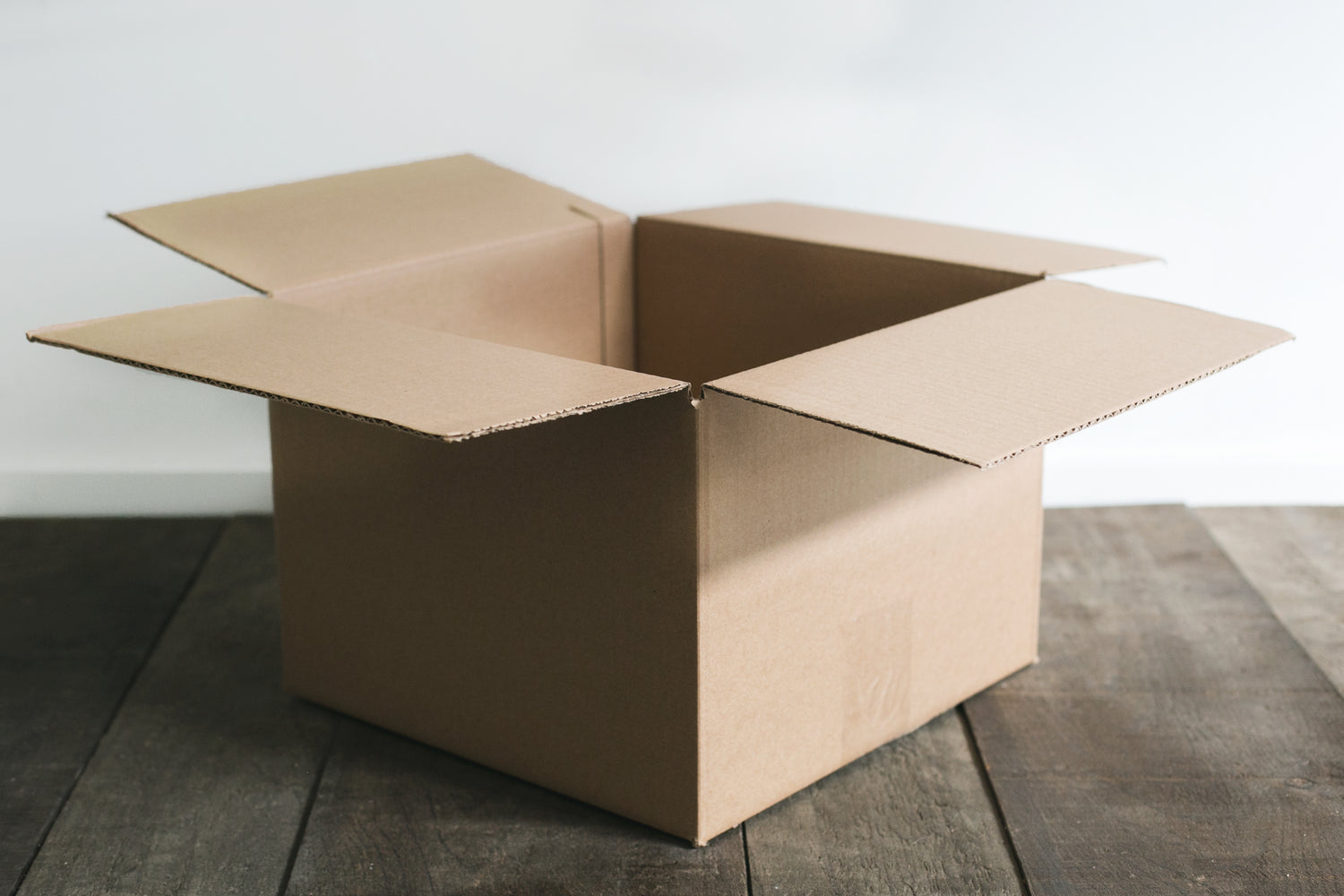 Was what you wanted sold out?
Read more about when we will have more of your favorites back in stock, or which new products we will have soon.
RESTOCK & COMING SOON